Duncan Chapman Memorial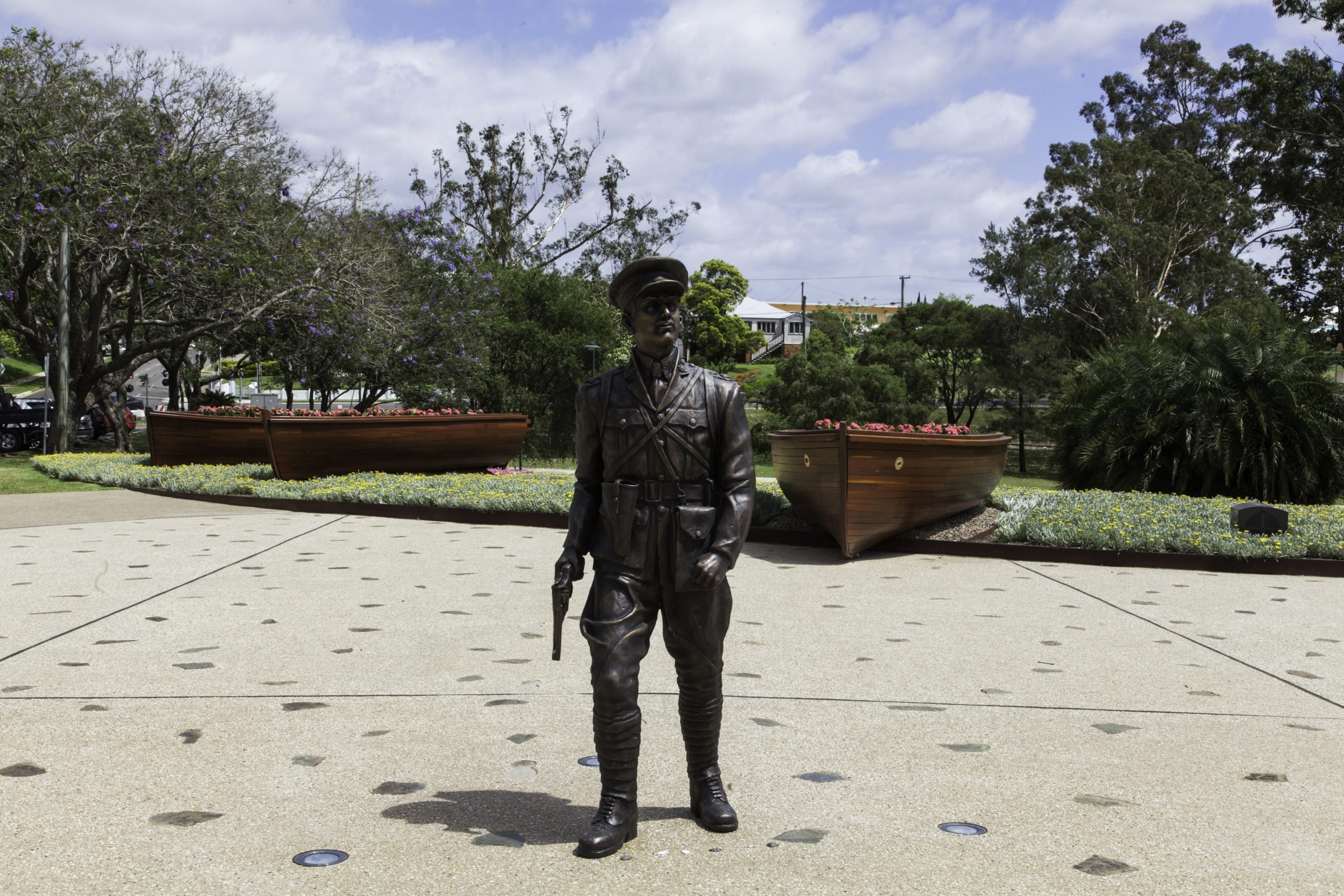 Funds to raise a statue of Duncan Chapman, the Maryborough man who was the first Anzac to step ashore at Gallipoli on April 25, 1915, were raised by the community in late 2014.
Former editor of the Fraser Coast Chronicle Nancy Bates met with then Fraser Coast mayor Gerard O'Connell and the then president of the Maryborough Sub-branch of the RSLA Bob Evans in August and decided to push to get the statue of Lt Chapman in place in time for the 100th anniversary of the landing.
A deposit was secured with a $27,000 loan from Fraser Coast businessman Warren Persal, who donated $10,000 back as a donation to the Duncan Chapman Appeal Committee. (The $17,000 was also donated back as seeding funding for the greater Gallipoli to Armistice memorial that evolved.)
With the Fraser Coast Regional Council planning a new gateway to Queen's Park at the end of Adelaide Street, it was agreed the statue would become the centrepiece of the entrance. Time constraints meant no public funding was available but the funds to pay for the statue were donated by the community in three months. (Link to donations/Duncan Chapman.)
Thousands watched a sound and light tribute compiled by Nancy Bates and Greig Bolderrow as the statue was unveiled at dawn on April 24, 2015.
With the Duncan Chapman statue came questions about Gallipoli. Gaps in Australians' knowledge of Gallipoli, the Western Front and The Great War, in general, were apparent. After 100 years, curiosity was growing. The Duncan Chapman Appeal Committee evolved into the Queen's Park Military Trail Project Committee.
The entrance statement grew into a unique memorial tracing the steps of the original Anzacs with a feature path for Pozieres. The campaign in the Middle East is described with interpretive signs in Freedom Park, Pialba, Hervey Bay, beside the sculpture of the Light Horse charge at Beersheba.
Gallipoli to Armistice was funded with $900,000 and project management resources from the Fraser Coast Regional Council; matching funds of $900,000 from the Australian Government Stronger Regions Fund and $1 million from the Queensland Government Anzac Centenary Commemoration Fund.
Corporate sponsorship came from Downer Group with the manufacture of weathered steel columns at the Maryborough depot; from Persal and Co. with the supply of cranes; and from DTM Timber for the supply of hardwood timber components within the complex. Countless hours of professional services were also donated by the community of Maryborough.
Stories of Wide Bay men who fought in the Great War are told from the book Letters From the Front Line published by the Maryborough Wide Bay and Burnett Historical Society. The letters were researched and copied from war-time files of the Maryborough Chronicle by Miss Jean Hunter.